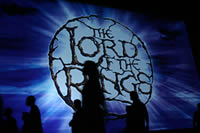 Anne Lindsay Performs in
Lord of the Rings
The world premier of The Lord of the Rings, which opened in Toronto in March, had a very exotic folk violin chair that I was asked to take on. It's been a wonderful adventure as I've had to learn two new Scandinavian fiddles, the Swedish nyckelharpa and the Finnish jouhikko. The nyckelharpa is a traditional Swedish instrument that has been played for more than 600 years. It has 16 strings: 3 melody strings, one drone string, and 12 sympathetic vibration (or resonance) strings. It has about 37 wooden keys arranged to slide under the strings. Each key has a tangent that reaches up and stops (frets) a string to make a particular note.
The player uses a short bow with the right hand, and pushes on the keys with the left. It has a 3 octave range (from the same low "G" as a fiddle's 4th string). I've affectionately nicknamed it: 'the accordion of the violin family". The jouhikko, sometimes called a knee-fiddle, has a flat wooden body and 3 strings made from ice-fishing line! The left hand comes through a hole in the back of the neck to touch the strings with the back of the fingers!
It's sound is earthy and dense, very primitive and I'm totally enraptured by it. So most of my fall has been taken up with learning these instruments. I've been lucky to have a great teacher in the Finnish fiddler, Lassi Logren, who plays in Varttinna, the Finnish folk super-group who are collaborating on the score. Lassi is very patient and thorough, as well as an excellent fiddle player; it's been a pleasure to work with him.
---
Greg Quill wrote an excellent article about me and the instruments in the Toronto Star: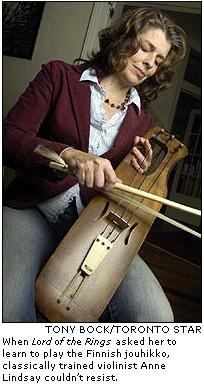 Instruments of torture;
STRUNG UP Musician tries ancient sounds for Lord of the Rings

Greg Quill. Toronto Star. Toronto, Ont.: Nov 6, 2005. pg. C.03
(Copyright (c) 2005 Toronto Star, All Rights Reserved. )

Three strings stretched over a cigar box.
And a handle that's gripped in a way that forces the fingers upwards, away from the instrument, to attenuate the bowed strings from beneath.
That's the Finnish jouhikko, an instrument so rare, so rustic, so perversely cumbersome and so medieval in design and purpose that it was all but extinct by the early 20th century.
In fact, there's only one CD of jouhikko music available in the whole world, says Toronto violinist Anne Lindsay. And she ought to know.
The popular Toronto virtuoso - star of her self-named jazz-folk ensemble, an in-demand session musician, and regular with acts from Blue Rodeo to John McDermott - joins the orchestra in the world premiere production of stage musical Lord of the Rings. It opens in February at Toronto's Princess Of Wales Theatre.
Until she accepted the year-long gig, Lindsay, 49, had never heard of the jouhikko, or of the Swedish nyckelharpa, a preposterously elaborate instrument from the 12th century that looks like a cross between an autoharp and a hurdy gurdy. She'll play both instruments during the show's run, as well as doubling on fiddle and mandolin.
"They were sent to me just before Thanksgiving, and I frightened my family trying to figure out how they worked over that first weekend," says Lindsay. "They thought I'd lost my chops."
She hadn't even laid eyes on these ancient instruments when she agreed to take them on. But they've been part of the Nordic musical culture for eight centuries, and central to Finland's foremost folk- fusion band, Varttina, which collaborated on the Lord of the Rings score with Indian composer A.R. Rahman.
"These instruments could have been imagined only by Scandinavians. The only thing they have in common with the violin is the bow." Lindsay was about to release her sophomore solo album when the call came from Lord of the Rings music director Rick Fox.
"I had worked with Anne before, and I knew she has unique qualities that make her perfect for this gig," says Fox, a pianist, composer, arranger, producer, and director/conductor. "There are a lot of great violinists in Toronto in the classical and Celtic music areas, but they would have trouble with these instruments and this score, which is essentially progressive folk music with classical elements. It's a beast."
Lindsay has put her career and new album release on hold for a year to step into the world of the pit musician, with a pair of exotic instruments on which she must quickly become a virtuoso.
She's performing a "farewell-for-now" concert Wednesday night at Hugh's Room with her band - guitarist Jason Fowler, bassist David Woodhead, drummer Al Cross and saxophonist/flautist Colleen Allen - with special guest Oliver Schroer, and giving fans a taste of her postponed CD.
"Doing a musical is a lot of work - six nights and eight shows a week - but it provides a degree of stability that we haven't had around here while I've been out touring and doing sessions," says Lindsay.
Classically trained, she ditched orchestral life to play with folk and rock bands in the 1970s and '80s - including the renegade Australian country-rock outfit Southern Cross, with your humble columnist on guitar.
Lindsay quit touring and recording for about 10 years to raise three sons, now aged 13, 16 and 19, then resumed her solo career in 2002 with the release of Eavesdropping. She's been featured in countless concerts and at major folk festivals across the country every year since.
"I had to be convinced I would get enough out of this intellectually and creatively," she says of Lord of the Rings. "Learning a new instrument is always a challenge, and after I'd heard Varttina's music on CD, I was intrigued, even though I hadn't seen a single note of the score."
That arrived last week. Varttina fiddler Lassi Logren has been helping Lindsay, via email, master her new instruments. He and other band members will be in and out of Toronto during the next couple of months.
"And who knows - when all this is over, I may be Toronto's only A- list jouhikko and nyckelharpa player. I could name my own price!
[Illustration above] Credit: Tony Bock toronto star
When Lord of the Rings asked her to learn to play the Finnish jouhikko, classically trained violinist Anne Lindsay couldn't resist. One bow, 16 strings, 37 keys. The millipede of music. One bow, 16 strings, 37 keys. The millipede of music.

Because a fiddle just wouldn't do
Toronto Star. Toronto, Ont.: Nov 6, 2005. pg. C.03
(Copyright (c) 2005 Toronto Star, All Rights Reserved. )

The jouhikko, sometimes called the knee fiddle or the Finnish lyre, has a flat, wooden, box-like body and usually three horsehair strings - tuned to D, A and E - though it comes in two- and four- stringed versions. It sounds earthy and dense, like a primitive viola. The strings are "fretted" from beneath, with fingernail nails for the backs of the fingers.
This strange creature came to Finland from Scandinavia in the Middle Ages. It has survived with limited use in the east of that nation, but it's now enjoying something of a revival. Recorded jouhikko music tends to be rhythmic and fast, and based on improvisation and constant variation. The nyckelharpa - Swedish for "key harp" - belongs to the same instrument family as the English hurdy gurdy, and it's been played, in one form or another, for more than 600 years.
The modern chromatic nyckelharpa has 16 strings - three melody strings, one drone string, and 12 resonance strings. It has up to 37 wooden keys under the strings. Each key has a wooden rod to fret strings. The player bows with the right hand, and plays the keys with the left. It has a three-octave range and sounds something like a fiddle, but more resonant.